Assessment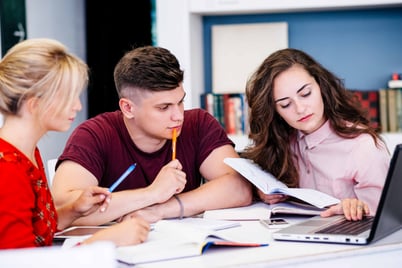 Assessment methods are specified in each module outline and are designed to measure attainment of intended learning outcomes to meet the aims and objectives of the module. Assessments are designed to appraise individual capabilities fairly and consistently bearing in mind the learner profile. We use grading rubrics for assessments (made available to students) to assure consistent and transparent grading and feedback to students. Lecturers communicate their expectations clearly to students via an assessment brief and use explicit schema to facilitate consistency of marking within and between modules and to ensure good feedback on individual performance.
Assessments include a mixture of formative and summative assessments. Formative assessments are up to 2 pieces of assessment that lead students towards the summative assessment, for example a short Q&A test, a research task or classroom polls. These help students to identify gaps in their learning which they will need to close to complete the summative assessment. Formative assessments are small tasks that monitor ongoing learning and for which students receive feedback in a timely manner, often immediately, or within 2 weeks electronically. By providing details of formative assessments, students know what to expect from the module and potentially plan time to prepare for these. Summative assessments are up to 2 pieces of assessment that assess module learning outcomes for a 15-credit module, 1 piece of assessment for a 10-credit module.
Feedback will be provided within 15 working days of submission.
Knowledge and understanding are demonstrated through written assignments involving essays, reports, oral presentations, timed assessments and group work.
Intellectual and cognitive skills are demonstrated through the analysis of case studies, applying approaches from business, management and technology to support problem solving and decision-making, and the completion of problem-solving exercises Transferable skills are demonstrated through exercises including case study analyses, problem-solving exercises, individual and group presentations and the Action Learning/Startup project (see below
The programme will incorporate authentic assessment approaches – for example, projects are an important component of the programme. The curriculum combines theory with real- world projects to help sensitise students to 'real world' challenges and equip them with the skills to handle complex situations. The school will assist in finding appropriate partner companies.
Group work is assessed via presentations and reports. All group assignments allow for an element of individual assessment to recognise differences in individual performance, where appropriate. Peer feedback can also play a significant part in team activities and is encouraged.
In designing the assessment strategy for the programme, the course team have been careful to align with the School's Assessment, Grading, Validation & Moderation Policy and the School's Undergraduate (UG) Grade Descriptors.